Welcome to The Sixth Hammer
The Sixth Hammer is a boutique website and game development studio, situated in Plovdiv, Bulgaria, with over 15 years of experience in the field of web and software development, including mobile apps and games.
Why Should You Choose Us?
We are able to provide a complete and diverse package of services, specially tailored to your needs. From prototyping to development, deployment and support, The Sixth Hammer will create value for you at a cost effective price. Years of team collaboration have defined efficient project management workflows and very accurate ETA scheduling.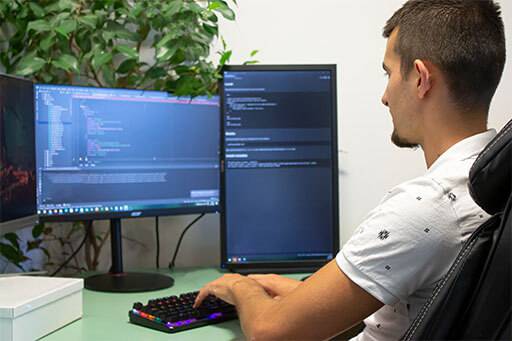 Founded the studio
The genesis of the company began way back in 2010, when two young programmers (Yasen and Dimitar) met at the Plovdiv Highschool of Musical Arts. After a period of extensive programming, developing websites, mobile applications, PC software and most importantly – games, the two founded The Sixth Hammer in 2011!
First big corporate clients
This is the year that marks the start of bigger web development project for the company. International clients like Pernod Ricard, T-Mobile and Appy Saude are added to the company's partners portfolio.
Expanded the team
With the full production start of the company's biggest project – Moo Lander, an international team of 8 highly efficient specialists was formed. The first new member of The Sixth Hammer is Ivaylo Palchev.
Second team expansion
Following a couple of years of growth, both in terms of new people, new projects and larger scope of the Moo Lander game, 2020 is the year of the second big team expansion. Nick Gaidov joins the company, and several months later so do Alexander Filipov and Atanas Mitev.
Funded by а venture capital fund
2021 is the year that marks the first successful company funding by the big venture capital fund Innovation Capital. With this fresh financing, the company greatly expands its marketing efforts and operations.
Release of Moo Lander
2022 is a very exciting year for The Sixth Hammer, as the small indie studio successfully releases the fully developed 2D adventure game Moo Lander. The gaming platforms for the game are PC, Xbox One/Series S, and PlayStation 4/5. The youngest team member – Todor Kalchev, joins the company.
The Game Developers Conference (GDC) is an annual event that serves as one of the
The great experience of creating a memorable Plovdiv Game Jam 2023 event​ The vibrant city
You can connect with The Sixth Hammer over social media and/or e-mail. If you have any kind of business or other inquiry, we would like to hear from you!